Meet Dr. Shervin Harandi, M.D. at Modern Pain Management in Houston and Sugar Land, TX
Dr. Shervin Harandi M.D. is a board-certified anesthesiologist and interventional pain management specialist at Modern Pain Management! For more information,

call us

today!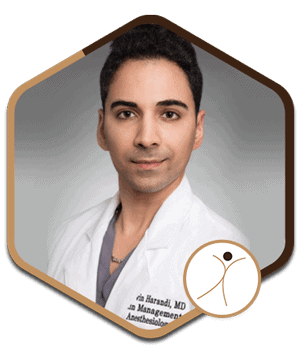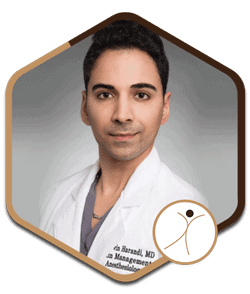 DR. SHERVIN HARANDI, M.D.
What is the educational background of Dr. Shervin Harandi?
Dr. Shervin Harandi is a native Houstonian who joined Modern Pain Management in 2017 as a Board Certified Anesthesiologist and Interventional Pain Management Specialist. He was born and raised in the greater Houston area before completing his undergraduate degree at the University of Texas at Austin with honors. Dr. Harandi pursued his anesthesiology residency at Baylor College of Medicine and then his interventional pain medicine fellowship at Wake Forest Medical Center/Carolina's Pain Institute, which has been heralded as one of the top fellowship programs in the country.
What other expertise does Dr. Harandi have?
His training allowed him to be involved in various research clinical trials for many conditions. He also developed advanced skills in neuromodulation and spinal cord stimulator implantation, intrathecal pump therapy, vertebral augmentation, and various ultrasound-guided and fluoroscopically-guided procedures.
Dr. Harandi has published topics in pain journals and is involved in national and international anesthesiology and pain medicine conferences. Furthermore, he has been invited to present "The Best Surgical Techniques" in spinal cord stimulation implantation to pain physicians across the country.
What are Dr. Harandi's top areas of care?
During his fellowship, Dr. Harandi trained with some of the most esteemed pain physicians in the country, which allowed him to adopt the most innovative therapies for a variety of chronic pain syndromes related to headaches, neck pain, back pain, abdominal pain, pelvic pain, CRPS, joint pain, amputee/phantom limb pain, and cancer pain.
What is the care philosophy of Dr. Shervin Harandi?
Dr. Harandi's philosophy is to treat every patient like a family member and to employ new techniques to alleviate pain, restore function, and improve quality of life. He is involved in chronic pain research so that patients can continue to have many effective pain management treatments.
Is Dr. Shervin Harandi accepting new patients?
Yes, Dr. Harandi is now accepting new patients at Modern Pain Management. Please see our specialist today. We have convenient locations to serve you in Houston and Sugar Land, TX.